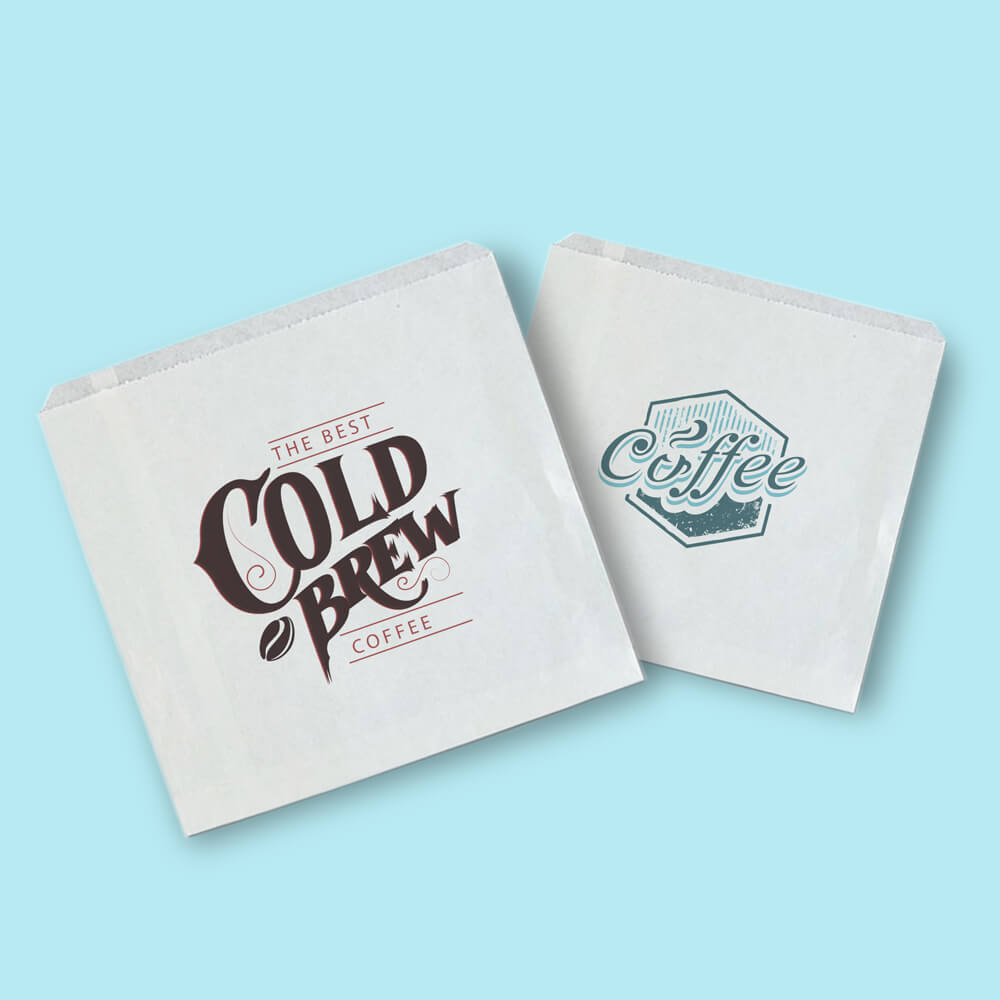 Printed Greaseproof Paper Bags 175 x 175mm (7 x 7") (White / Unstrung)
Our printed flat paper bags are greaseproof - making them a great choice for fruit and veg farm shop bags - Deli bags for pasties, pastries and cakes - Cafe takeaway bags for sandwiches, toasties, burgers and baked or fried foods. In addition or flat bags can be custom printed in 1 to 4 colours - printed on both sides. PackGenie use the latest printing technology to produce excellent print finish to advertise your brand at its best.
Our standard lead time for printed flat bags are 10 - 12 weeks from approval of artwork, free artwork (from a logo AI or PDF file). Please note: prices based on ink coverage of 40-70%
Measurements
Printed greaseproof bags: 7" x 7" (175mm x 175mm) flat bag / 1,000 bags per pack
Recyclable
Food Safe - Odourless Inks
Sustainably sourced
Food Grade Paper
100% Compostable
100% Biodegradable
Made in Britain
Hot & Cold Content Friendly
Individual Spot Colours

Let us take care of artwork
If you need our expert design team to create your artwork then we will run through your ideas, then start creating your bespoke artwork and email it over for you to review. If you require any changes, don't be afraid to let us know. Once you're happy to proceed, give us the thumbs up and we move your order into production straight away.
BE INSPIRED
Branded flat paper bag sizes - white 
7" x 7" Flat printed paper bags (175mm x 175mm)
7" x 9" Flat printed paper bags (175mm x 230mm)
8.5" x 8.5" Flat printed paper bags (215mm x 215mm)
10" x 10" Flat printed paper bags (250mm x 250mm)
Note: Size may vary slightly.
Delivery
Our custom printed cups are approximately 10 - 12 weeks from artwork approval. Note, size may vary slightly based on manufacturer used. Delivery to one UK Mainland destination - N.B. The quantity supplied may vary by industry standard of +/- 5%.
We work with these brands... why not join them?