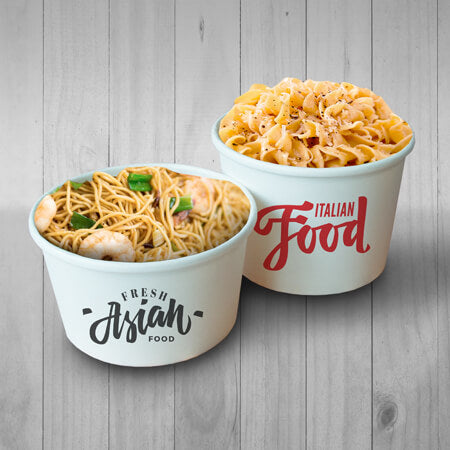 Personalised Food Containers 
Printed food containers are part of our screen print range - perfect for your delicious food such as soup, pasta, noodles, nachos, cheesy chips and many other hot and cold food. Our bespoke food bowls are 100% recyclable and FSC approved . Screen printed in 1 colour, using food safe inks. In a choice of 11 vivid Pantone colours including: Yellow, Rubine Red, Warm Red, Rhodamine Red, Purple, Violet, Reflex Blue, Process Blue, Green, Black and White.
Sizes:
12oz Height: 62mm x Width 95mm
16oz Height: 80mm x Width 110mm
PackGenie supplies many business' high-quality personalised food containers. Great for helping your brand stand out, no matter if its for your coffee shop, cafe, hotel, street food stall, mobile catering van or promotional event. New artwork is subject to a ONE OFF origination charge added separately during checkout - As long as artwork stays the same for repeat orders.
Our standard lead time for coffee cup printing is 10 - 15 working days from approval of artwork, free artwork (from a logo AI or PDF file).
Recyclable
Food Safe - Odourless Inks
Sustainably sourced
Food Grade Paper
Microwaveable
Made in UK
Hot & Cold Content Friendly
Choice of 1 Pantone Colour
Be bold. Be Different. Stand out!
You can either upload your artwork to the order before adding to basket or you can email us later. If your creating your own artwork, great stuff! Download the templates below or on our TEMPLATE page, don't forget our ARTWORK HELP GUIDES. If your not so hot at creating artwork then artwork is free. New artwork subject to a ONE OFF origination charge added separately during checkout. 
Templates
BE INSPIRED
Let us take care of artwork
If you don't upload any artwork when you place an order for your branded ice food containers, then we'll quickly be in touch with you, or if you can't wait email us. We run through what artwork you want, you can send us your logo and our expert designers create your artwork and email it over for you to review. If you require any changes, don't be afraid to let us know. Once you're happy to proceed, give us the thumbs up and we move your order into production straight away.
BE INSPIRED
We work with these brands... why not join them?