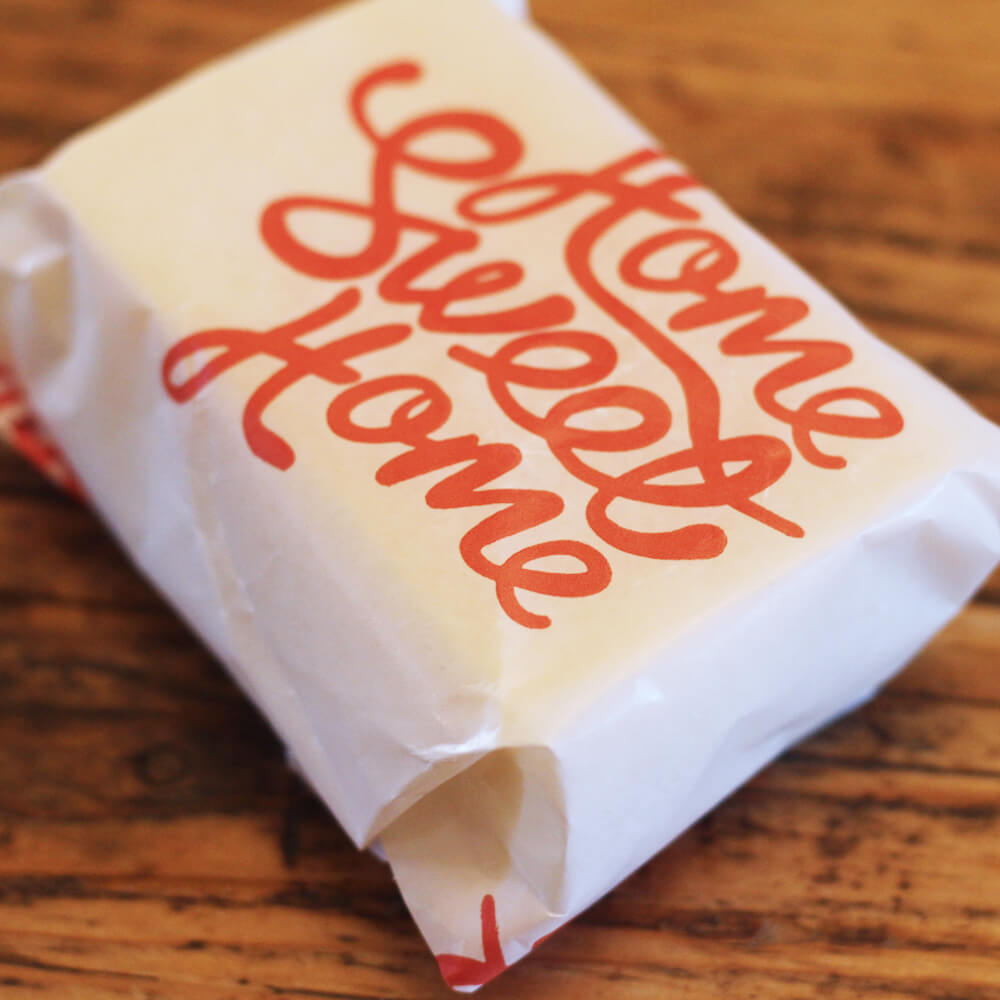 Custom Printed Waxed Cheese Wrap 60gsm
Our eco friendly Cheese Wrap is 100% biodegradable that perform exceptionally well with a wide variety of food products. Cheese paper wrap has superb grease and moisture barrier resistance. Cheese wraps are predominantly used for wrapping cheese and similar foods with high levels of moisture inside. Custom Cheese wrap is printed directly on to our high opacity white waxed paper with superior wet strength performance, therefore our cheese wrap will not break apart when in direct contact with high moisture cheeses such as; blue cheese / soft creamy cheese etc.. Cheese paper is very versatile, it can also be used by butchers as meat wrap for raw meat and fish, in addition it can also be used for broad spectrum of applications such as wrapping chocolate or other greasy / fatty foods such as doughnuts and pastries.
We print cheese wrap to your custom design produced on 60gsm waxed paper that can be used for a wide variety of different food types including meat wraps for butchers, charcuterie or fish wraps for fishmongers.
Measurements
Available in two of our most popular size options: 250mm x 375mm or 350mm x 450mm.
Our standard lead time for custom printed cheese wraps are 5 - 6 weeks from approval of artwork, free artwork (from a logo AI or PDF file). Please contact us if you have a specific deadline.
Made in Britain
Biodegradable
Compostable
Food Safe - Odourless Inks
Sustainably sourced
Food Grade Paper
Choice of 1 ink colour
Specs
| | | | |
| --- | --- | --- | --- |
| Product Code | WS60 | Finish | High opacity |
| Product | Cheese Wraps | Sheet Sizes | 250x375mm or 250x450mm |
| Type | Waxed Paper | Wet strength | Black / Green / Blue / Red |
| Print | Yes | Delivery | 5 Weeks |
| Colour | Choice of 1 ink colour | Recyclable | Yes |
| Custom Print | Yes | Supplied on | Sheets |
| Ink | Pantone | Suitable for | High moisture, greasy and fatty foods |
| Origin | UK | Paper Weight | 60gsm |
| Material | Eco friedly waxed paper | Biodegradable | Yes |
Space Around Logo
There must be a 50mm gap around all logos otherwise a more complex print plate tool is required at additional cost. If you're unsure don't hesitate to get in touch with us to discuss your waxed paper sheets. Prices are subject to sight of design and colour detail.
BE INSPIRED
FREE Artwork Prep
Just send us your logo with your ideas and our expert designers will create your artwork and email it over for you to review. If you require any changes, don't be afraid to let us know. Once you're happy to proceed, give us the thumbs up and we move your order into production straight away.
BE INSPIRED
High Wet Strength
Our 60 gsm custom printed wax sheets are suitable for a variety of food types including high moisture, greasy and fatty foods such as blue cheese, soft cheese, raw meats, fish and charcuterie. Our wax sheets have very high levels of wet strength so will not rip or tear when in contact with these types of food.
We work with these brands... why not join them?