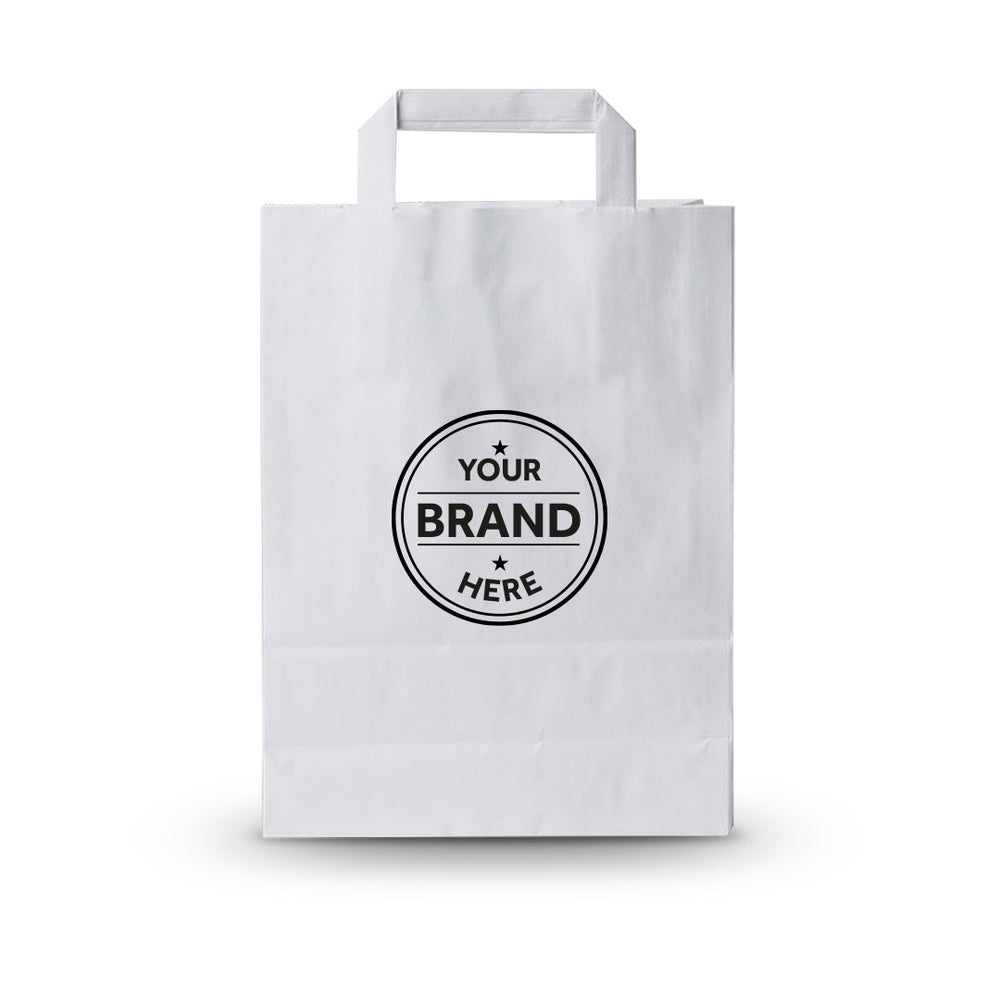 200x100x290mm 80gsm Brown / White Bags Internal Tape Handle (Printed 1 Colour)
Bespoke printed paper bags with handle (Internal tape handle). PackGenie.co.uk supplies many catering and retail business' high-quality printed paper bags. Our 1 colour custom print range of white / brown handled paper bags have been specially developed with our customers in mind. We understand low volumes, fast turnaround and brand image are important to you. This is why our 1 colour custom printed paper bag range offers a large print zone in the middle of the bag, printed in your choice of 1 colour - this keeps cost down and production times quick. Branded takeaway packaging is great for helping your brand stand out, and keeping up with changing marketing / promotions. No matter if its for your coffee shop, cafe, hotel or promotional event. 100% recyclable and are made from paper sourced from FSC approved and managed forests. Suitable for takeaway food and retail. New artwork is subject to a ONE OFF origination charge added separately during checkout - As long as artwork stays the same for repeat orders.
Our standard lead time for printed carriers are 10 - 15 working days from approval of artwork, free artwork (from a logo AI or PDF file).
Measurements
Approx Width: 200mm x Gusset (side of bag) 100mm x Height: 290mm. 80gsm Brown or White Kraft Paper. Note: Sizes may vary slightly.
Recyclable
Food Safe - Odourless Inks
Sustainably sourced
Food Grade Paper
100% Compostable
100% Biodegradable
Made in Britain
Hot & Cold Content Friendly
Choice of 1 colour
Make your brand fly with branded paper bags!
You can either upload your artwork to the order before adding to basket or you can email us later. If your creating your own artwork, great stuff! Download the templates below or on our TEMPLATE page, don't forget our ARTWORK HELP GUIDES. If your not so hot at creating artwork then artwork is free. New artwork subject to a ONE OFF origination charge added separately during checkout. 
Templates
BE INSPIRED
Let us take care of artwork
If you don't upload any artwork when you place an order for your paper bag printing, then we'll quickly be in touch with you, or if you can't wait email us. We run through what artwork you want, you can send us your logo and our expert designers create your artwork and email it over for you to review. If you require any changes, don't be afraid to let us know. Once you're happy to proceed, give us the thumbs up and we move your order into production straight away.
BE INSPIRED
Branded paper bag sizes - white / brown (Ext Handle 80gsm)
180 x 80 x 220mm
200 x 100 x 280mm
260 x 140 x 320mm
260 x 100 x 330mm
320 x 140 x 420mm 
Note: Size may vary slightly.
Delivery
Our custom printed cups are approximately 10 to 15 working days all from artwork approval. Note, size may vary slightly based on manufacturer used. Delivery to one UK Mainland destination - N.B. The quantity supplied may vary by industry standard of +/- 5%.
We work with these brands... why not join them?